By Mark Wunderlich
Oh, Unreadable One, why   
have you done this to your dumb creature?   
Why have you chosen to punish the coyote   
rummaging for chicken bones in the dung heap,   
shucked the fur from his tail   
and fashioned it into a scabby cane?   
Why have you denuded his face,   
tufted it, so that when he turns he looks   
like a slow child unhinging his face in a smile?   
The coyote shambles, crow-hops, keeps his head low,   
and without fur, his now visible pizzle   
is a sad red protuberance,   
his hind legs the backward image   
of a bandy-legged grandfather, stripped.   
Why have you unhoused this wretch   
from his one aesthetic virtue,   
taken from him that which kept him   
from burning in the sun like a man?   
Why have you pushed him from his world into mine,   
stopped him there and turned his ear   
toward my warning shout?
Source: Poetry (February 2009)
Nature
Social Commentaries
Poet Bio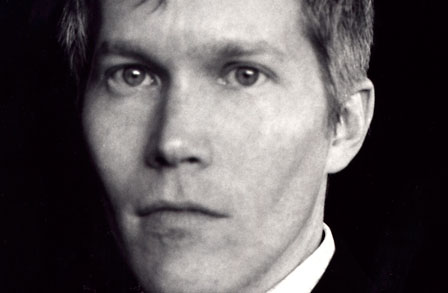 Mark Wunderlich's poems engage themes of sexuality, spirituality, and power, balancing a baroque attention to detail with driving movement. He has taught writing at Sarah Lawrence College, San Francisco State University, and Bennington College. He lives in New York's Hudson River Valley.
More Poems about Nature
What Women Are Made Of
We are all ventricle, spine, lung, larynx, and gut.
Clavicle and nape, what lies forked in an open palm;

we are follicle and temple. We are ankle, arch,
sole. Pore and rib, pelvis and root

and tongue. We are wishbone and gland and molar
and...
White Box
Of Tribulation, these are They,
Denoted by the White.
— Emily Dickinson


Pained, permanent
wakefulness

Exposed
in the split geode

a Santa's grotto
Jagged milk

quartz crusts
constitute

every surface —
a mouth

all teeth
self-sharpening

like sea urchins' —
"Uncomfortably beautiful"

toughened glass
spikes

in the doorways
of award-

winning offices
 — rough

sleepers from the womb
condemned

to make of anything succulent
rock

of porticoes
iron maidens
Browse poems about Nature
More Poems about Social Commentaries
Vagrants and Loiterers
You got that clean waistcoat,
the bright white of a well-tailored
shirt, you got those loose-as-sacks
slacks and some spit-polished shoes,
and you know, whether you are looking
like money, or about to take a stroll,
to tilt that hat like you own
the world; yeah, smoke...
Activities
Living
Social Commentaries
Back Up Quick They're Hippies
That was the year we drove
into the commune in Cornwall.
"Jesus Jim," mam said,
"back up quick they're hippies."

Through the car window,
tents, row after row, flaps open,
long-haired men and women
curled around each other like babies

and the babies themselves
wandered naked across the grass.

I...
Living
Relationships
Social Commentaries
Browse poems about Social Commentaries