By X J Kennedy
Ginsberg, Ginsberg, burning bright,   
Taunter of the ultra right,   
What blink of the Buddha's eye   
Chose the day for you to die?
Queer pied piper, howling wild,
Mantra-minded flower child,   
Queen of Maytime, misrule's lord   
Bawling, Drop out! All aboard!
Finger-cymbaled, chanting Om,
Foe of fascist, bane of bomb,
Proper poets' thorn-in-side,
Turner of a whole time's tide,
Who can fill your sloppy shoes?
What a catch for Death. We lose
Glee and sweetness, freaky light,
Ginsberg, Ginsberg, burning bright.
Kennedy, X.J. "For Allen Ginsberg" from The Lords of Misrule: Poems 1922-2001. © 2002 X.J. Kennedy. Reproduced with permission of The John Hopkins University Press.
Source: The Lords of Misrule (2002)
Poet Bio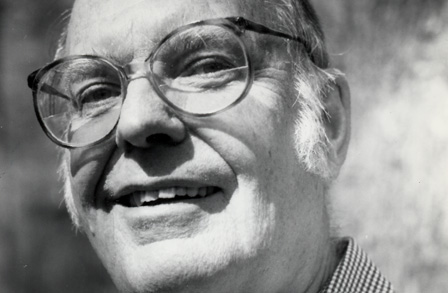 Born Joseph Charles Kennedy in Dover, New Jersey, X.J. Kennedy is as well known for his light verse and children's poetry as he is for his more serious works. His 1961 collection Nude Descending a Staircase won the Lamont Award, and in 2001 Kennedy was awarded the Aiken Taylor Award for lifetime achievement in poetry.
More By This Poet
More Poems about Arts & Sciences
Browse poems about Arts & Sciences
More Poems about Living
What Women Are Made Of
We are all ventricle, spine, lung, larynx, and gut.
Clavicle and nape, what lies forked in an open palm;

we are follicle and temple. We are ankle, arch,
sole. Pore and rib, pelvis and root

and tongue. We are wishbone and gland and molar
and...
Vagrants and Loiterers
You got that clean waistcoat,
the bright white of a well-tailored
shirt, you got those loose-as-sacks
slacks and some spit-polished shoes,
and you know, whether you are looking
like money, or about to take a stroll,
to tilt that hat like you own
the world; yeah, smoke...
Activities
Living
Social Commentaries
Browse poems about Living