By Dante Gabriel Rossetti
Thin are the night-skirts left behind
By daybreak hours that onward creep,
And thin, alas! the shred of sleep
That wavers with the spirit's wind:
But in half-dreams that shift and roll
And still remember and forget,
My soul this hour has drawn your soul
A little nearer yet.
Our lives, most dear, are never near,
Our thoughts are never far apart,
Though all that draws us heart to heart
Seems fainter now and now more clear.
To-night Love claims his full control,
And with desire and with regret
My soul this hour has drawn your soul
A little nearer yet.
Is there a home where heavy earth
Melts to bright air that breathes no pain,
Where water leaves no thirst again
And springing fire is Love's new birth?
If faith long bound to one true goal
May there at length its hope beget,
My soul that hour shall draw your soul
For ever nearer yet.
Living
Love
Relationships
Poet Bio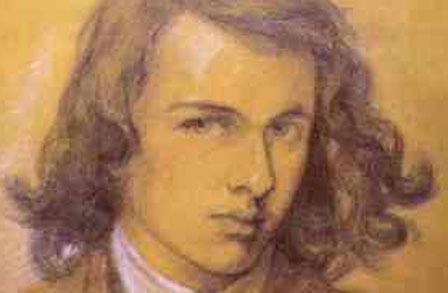 Dante Gabriel Rossetti was born in England. In addition to writing poetry, Rossetti was an important figure in the Pre-Raphaelite Brotherhood and the painting associated with that group. Throughout his life he divided his work between his two passions: poetry and art. He was the brother of the poet Christina Rossetti.
More Poems about Living
What Women Are Made Of
We are all ventricle, spine, lung, larynx, and gut.
Clavicle and nape, what lies forked in an open palm;

we are follicle and temple. We are ankle, arch,
sole. Pore and rib, pelvis and root

and tongue. We are wishbone and gland and molar
and...
Vagrants and Loiterers
You got that clean waistcoat,
the bright white of a well-tailored
shirt, you got those loose-as-sacks
slacks and some spit-polished shoes,
and you know, whether you are looking
like money, or about to take a stroll,
to tilt that hat like you own
the world; yeah, smoke...
Activities
Living
Social Commentaries
Browse poems about Living
More Poems about Love
Browse poems about Love
More Poems about Relationships
Browse poems about Relationships