By Lorna Dee Cervantes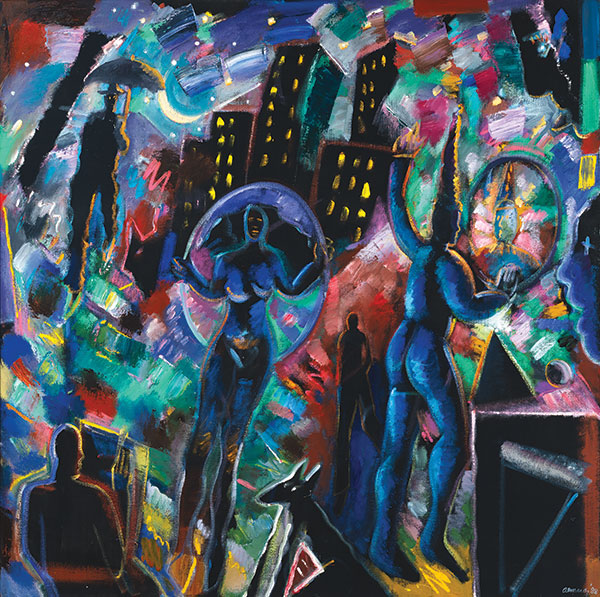 Night Magic (Blue Jester), 1988, by Carlos Almaraz
After Federico García Lorca
Blue that I love you
Blue that I hate you
Fat blue in the face
Disgraced blue that I erase
You lone blue
Blue of an alien race
Strong blue eternally graced
Blue that I know you
Blue that I choose you
Crust blue
Chunky blue
Moon blue glows that despise
You — idolize you
Blue and the band disappears
Blue of the single left dog
Blue of the eminent red fog
Blue that I glue you to me
You again and again blue
Blue blue of the helium
Bubble of  loveloss
Blue of  the whirlwind
The blue being again
Blue of the endless rain
Blue that I paint you
Blue that I knew you
Blue of  the blinking lights
Blue of  the landing at full tilt
Blue of  the wilt
Flower of  nightfall
Blue of  the shadow
In yellowed windows
Blue of the blown
And broken glass
Blue of the Blue Line
Underlines in blue
Blue of the ascending nude
Blue before the blackness
Of  new blue of our winsome
Bedlam Blue of the blue
Bed alone: blue of the one
Who looks on blue of what
Remains of cement fall
Blue of the vague crescent
Ship sailing blue of the rainbow
Of  wait blue that I whore
You — blue that I adore you
Blue of the bluest door
Blue my painted city
In blue (it blew.)
You can read the rest of the PINTURA : PALABRA portfolio in the March 2016 issue of Poetry. All images in this portfolio are courtesy of and with permission from the Smithsonian American Art Museum. Night Magic (Blue Jester) by Carlos Almaraz, gift of Gloria Werner © 1988, Carlos Almaraz Estate.
Source: Poetry (February 2016)
Poet Bio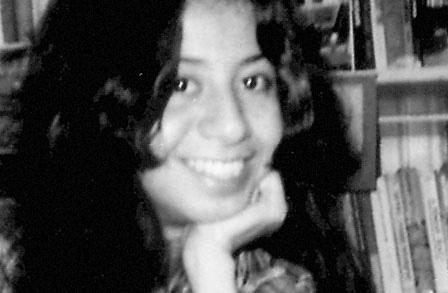 Lorna Dee Cervantes is a critically acclaimed native California (Chumash-Chicana) poet. She is the former Director of Creative Writing and an Associate Professor of English at the University of Colorado in Boulder where she has taught for 18 years. Cervantes's writing evokes and explores cultural difference—between Mexican, Anglo, Native American, and African American lives—as well as the divides of gender and economics.
See More By This Poet
More By This Poet
More Poems about Living
Browse poems about Living
More Poems about Love
Browse poems about Love
More Poems about Nature
Browse poems about Nature
Get a random poem