By May Sarton
As the tide rises, the closed mollusc
Opens a fraction to the ocean's food,
Bathed in its riches. Do not ask
What force would do, or if force could.
A knife is of no use against a fortress.
You might break it to pieces as gulls do.
No, only the rising tide and its slow progress
Opens the shell. Lovers, I tell you true.
You who have held yourselves closed hard
Against warm sun and wind, shelled up in fears
And hostile to a touch or tender word—
The ocean rises, salt as unshed tears.
Now you are floated on this gentle flood
That cannot force or be forced, welcome food
Salt as your tears, the rich ocean's blood,
Eat, rest, be nourished on the tide of love.
May Sarton, "Of Molluscs" from Collected Poems 1930-1993. Copyright © 1993 by May Sarton. Reprinted by permission of W. W. Norton & Company, Inc..
Source: Collected Poems 1930-1993 (W. W. Norton & Company Inc., 1993)
Poet Bio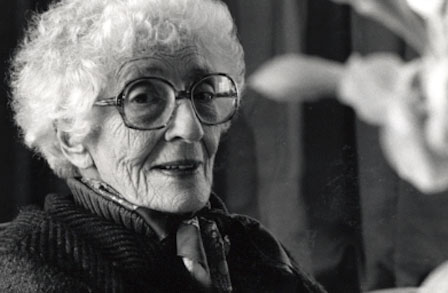 May Sarton was born in Belgium, and immigrated to the US during World War I. She attended one of the country's first progressive grade schools, and received a scholarship to Vassar, which she declined to pursue acting. After failing as an actress, Sarton dedicated her energy to writing. She received some critical praise initially, but later reviews were often negative and caused her much personal despair. Over many decades, she managed to develop a sizable audience for both her poetry and her prose. In her poetry, she does not hold to any particular subject or form, writing in both free verse and meter, and about topics ranging from her personal love affairs to the student protests at Kent State.
See More By This Poet
More By This Poet
More Poems about Love
Browse poems about Love
More Poems about Nature
Listening in Deep Space
We've always been out looking for answers,
telling stories about ourselves,
searching for connection, choosing
to send out Stravinsky and whale song,
which, in translation, might very well be
our undoing instead of a welcome.

We launch satellites, probes, telescopes
unfolding like origami, navigating
geomagnetic storms, major disruptions.
Rovers...
Browse poems about Nature
Get a random poem