By Evie Shockley
we make midnight a maquette of the year:
frostlight glinting off snow to solemnize
the vows we offer to ourselves in near
silence: the competition shimmerwise
of champagne and chandeliers to attract
laughter and cheers: the glow from the fireplace
reflecting the burning intra-red pact
between beloveds: we cosset the space
of a fey hour, anxious gods molding our
hoped-for adams with this temporal clay:
each of us edacious for shining or
rash enough to think sacrifice will stay
this fugacious time: while stillness suspends
vitality in balance, as passions
struggle with passions for sway, the mind wends
towards what's to come: a callithump of fashions,
ersatz smiles, crowded days: a bloodless cut
that severs soul from bone: a long aching
quiet in which we will hear nothing but
the clean crack of our promises breaking.
Evie Shockley, "on new year's eve" from the new black. Copyright © 2011 by Evie Shockley. Reprinted by permission of Wesleyan University Press.
Source: the new black (Wesleyan University Press)
Poet Bio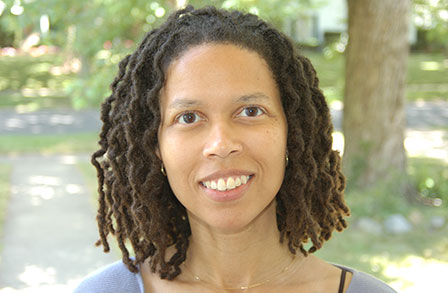 Born and raised in Nashville, Tennessee, poet Evie Shockley earned a BA at Northwestern University, a JD at the University of Michigan, and a PhD in English literature at Duke University. Both spare and lyrical, Shockley's poems often begin with an active interrogation of received poetic forms and practices, such as capitalization. But her work is also interested in subjectivity, the lyric tradition, and notions of place. Coeditor of the journal jubilat from 2004 to 2007, Shockley is a professor at Rutgers University. She lives in Jersey City, New Jersey.
See More By This Poet
More By This Poet
More Poems about Activities
Browse poems about Activities
More Poems about Living
Browse poems about Living
Get a random poem