By Evie Shockley
when the cultivators of corpses are busy seeding
plague across vast acres of the land, choking schools
and churches in the motley toxins of grief, breeding
virile shoots of violence so soon verdant even fools
fear to tread in their wake :: when all known tools
of resistance are clutched in the hands of the vile
like a wilting bouquet, cut from their roots, while

the disempowered slice smiles across their own faces
and hide the wet knives in writhing thickets of hair
for future use :: when breathing in the ashen traces
of dreams deferred, the detonator's ticking a queer
echo that amplifies instead of fading :: when there-
you-are is where-you-were and the sunset groans
into the atlantic, setting blue fire to dark white bones.
"the way we live now ::" from semiautomatic by Evie Shockley © 2017 by Evie Shockley. Published by Wesleyan University Press. Used by permission.
Relationships
Social Commentaries
Poet Bio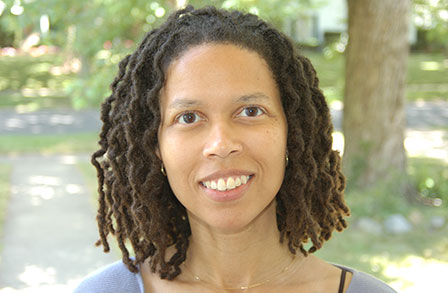 Born and raised in Nashville, Tennessee, poet Evie Shockley earned a BA at Northwestern University, a JD at the University of Michigan, and a PhD in English literature at Duke University. Both spare and lyrical, Shockley's poems often begin with an active interrogation of received poetic forms and practices, such as capitalization. But her work is also interested in subjectivity, the lyric tradition, and notions of place. Coeditor of the journal jubilat from 2004 to 2007, Shockley is a professor at Rutgers University. She lives in Jersey City, New Jersey.
See More By This Poet
More By This Poet
More Poems about Relationships
Browse poems about Relationships
More Poems about Social Commentaries
Browse poems about Social Commentaries
Get a random poem