By Jamaal May
A lot of it lives in the trachea, you know.
But not so much that you won't need more muscle:
the diaphragm, a fist clenching at the bottom.
Inhale. So many of us are breathless,
you know, like me
kneeling to collect the pottery shards
of a house plant my elbow has nudged
into oblivion. What if I sigh,
and the black earth beneath me scatters
like insects running from my breath?
Am I a god then? Am I insane
because I worry about the disassembling of earth
regularly? I walk more softly now
into gardens or up the steps of old houses
with impatiens stuffed in their window boxes.
When it's you standing there with a letter
or voice or face full of solemn news,
will you hold your breath before you knock?
Source: Poetry (January 2016)
Poet Bio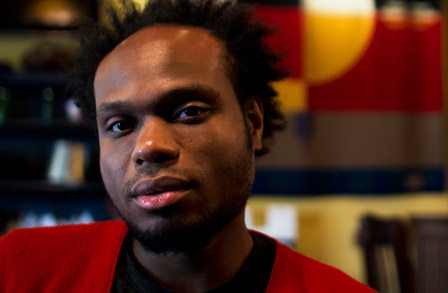 Jamaal May was born and raised in Detroit. His first book, Hum (2013), won a Beatrice Hawley Award and an American Library Association Notable Book Award and was an NAACP Image Award nominee. Hum explores machines, technology, obsolescence, and community; in an interview, May stated of his first book, "Ultimately, I'm trying to say something about dichotomy, the uneasy spaces between disparate emotions, and by extension, the uneasy spaces between human connection." May has taught poetry in Detroit public schools and worked as a freelance sound engineer. He has taught in the Vermont College of Fine Arts MFA program and codirects, with Tarfia Faizullah, the Organic Weapon Arts Chapbook and Video Series.
See More By This Poet
More By This Poet
More Poems about Activities
Browse poems about Activities
More Poems about Living
Browse poems about Living
More Poems about Nature
Browse poems about Nature
Get a random poem