By Yusef Komunyakaa
The river stones are listening
because we have something to say.
The trees lean closer today.
The singing in the electrical woods
has gone dumb. It looks like rain
because it is too warm to snow.
Guardian angels, wherever you're hiding,
we know you can't be everywhere at once.
Have you corralled all the pretty wild
horses? The memory of ants asleep
in daylilies, roses, holly, & larkspur.
The magpies gaze at us, still
waiting. River stones are listening.
But all we can say now is,
Mercy, please, rock me.
Yusef Komunyakaa, "Rock Me, Mercy" from The Emperor of Water Clocks. Copyright © 2015 by Yusef Komunyakaa. Reprinted by permission of Farrar, Straus and Giroux.
Source: The Emperor of Water (Farrar Straus and Giroux, 2015)
Poet Bio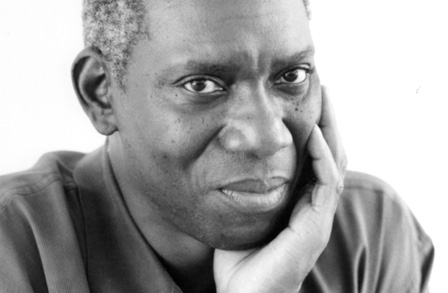 Yusef Komunyakaa's poems are rooted in his experiences as an African American growing up in rural Louisiana and his service in the Vietnam War. Influenced by the jazz music he loves as well as by people's everyday speech, his poetry has won a number of awards, including the Pulitzer Prize in 1994.
More By This Poet
More Poems about Nature
What Women Are Made Of
We are all ventricle, spine, lung, larynx, and gut.
Clavicle and nape, what lies forked in an open palm;

we are follicle and temple. We are ankle, arch,
sole. Pore and rib, pelvis and root

and tongue. We are wishbone and gland and molar
and...
White Box
Of Tribulation, these are They,
Denoted by the White.
— Emily Dickinson


Pained, permanent
wakefulness

Exposed
in the split geode

a Santa's grotto
Jagged milk

quartz crusts
constitute

every surface —
a mouth

all teeth
self-sharpening

like sea urchins' —
"Uncomfortably beautiful"

toughened glass
spikes

in the doorways
of award-

winning offices
 — rough

sleepers from the womb
condemned

to make of anything succulent
rock

of porticoes
iron maidens
Browse poems about Nature