By Nate Klug
Something blurred, warmed
in the eye's corner, like woodsmoke
becoming tears;
but when you turned to look
the stoop was still, the pumpkin
and tacky mum pot wouldn't talk —
just a rattle
at the gutter and a sense
of curtains, somewhere, pulled.
Five of   them later, scarfing the oak's
black bole,
laying a dream of snakes.
Needy and reticent
at once, these squirrels in charred November
recall, in Virgil,
what it is to feel:
moods, half-moods,
swarming, then darting loose; obscure
hunches that refuse
to speak, but still expect
in some flash of   luck
to be revealed. The less you try
to notice them,
the more they will know of  you.
Source: Poetry (September 2013)
Poet Bio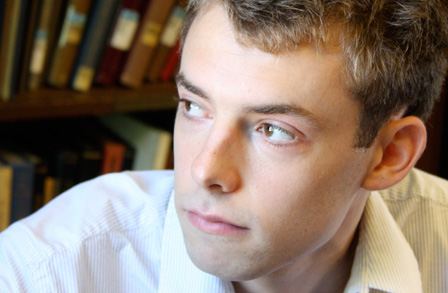 Nate Klug was born in Minnesota, grew up in Wellesley, Massachusetts, and earned a BA in English at the University of Chicago and a Masters from Yale Divinity School. A UCC-Congregationalist minister, he has served churches in North Guilford, Connecticut, and Grinnell, Iowa.
More Poems about Nature
What Women Are Made Of
We are all ventricle, spine, lung, larynx, and gut.
Clavicle and nape, what lies forked in an open palm;

we are follicle and temple. We are ankle, arch,
sole. Pore and rib, pelvis and root

and tongue. We are wishbone and gland and molar
and...
White Box
Of Tribulation, these are They,
Denoted by the White.
— Emily Dickinson


Pained, permanent
wakefulness

Exposed
in the split geode

a Santa's grotto
Jagged milk

quartz crusts
constitute

every surface —
a mouth

all teeth
self-sharpening

like sea urchins' —
"Uncomfortably beautiful"

toughened glass
spikes

in the doorways
of award-

winning offices
 — rough

sleepers from the womb
condemned

to make of anything succulent
rock

of porticoes
iron maidens
Browse poems about Nature