By Eric Chock
Saturday mornings, before
my weekly chores,
I used to sneak out of the house
and across the street,
grabbing the first grasshopper
walking in the damp California grass
along the stream.
Carefully hiding a silver hook
beneath its green wings,
I'd float it out
across the gentle ripples
towards the end of its life.
Just like that.
I'd give it the hook
and let it ride.
All I ever expected for it
was that big-mouth bass
awaiting its arrival.
I didn't think
that I was giving up one life
to get another,
that even childhood
was full of sacrifice.
I'd just take the bright green thing,
pluck it off its only stalk,
and give it away as if
it were mine to give.
I knew someone out there
would be fooled,
that someone would accept
the precious gift.
So I just sent it along
with a plea of a prayer,
hoping it would spread its wings this time
and fly across that wet glass sky,
no concern for what inspired
its life, or mine,
only instinct guiding pain
towards the other side.

Eric Chock, "The Bait" from Last Days Here. Copyright © 1990 by Eric Chock. Reprinted by permission of Eric Chock.
Source: Last Days Here (Bamboo Ridge Press, 1990)
Activities
Arts & Sciences
Living
Poet Bio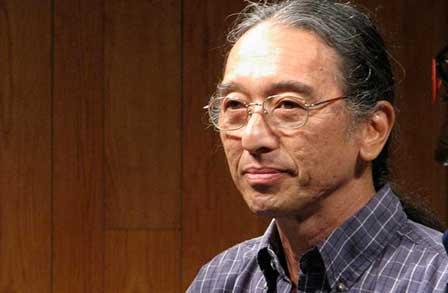 Poet, editor, and educator Eric Chock was born in Hawaii in 1950. Coordinator of Poets in the Schools for the Department of Education for more than 20 years, Chock has been a visiting distinguished writer at the University of Hawai'i-Manoa and taught writing and literature at the University of Hawai'i-West O'ahu before his retirement. In his work, Chock frequently explores the experiences of Hawaiian Chinese immigrants, and he is known for his advocacy of "local writing."
See More By This Poet
More Poems about Activities
Browse poems about Activities
More Poems about Arts & Sciences
Browse poems about Arts & Sciences
More Poems about Living
Browse poems about Living
Get a random poem