By Stevie Smith
I sigh for the heavenly country,
Where the heavenly people pass,
And the sea is as quiet as a mirror
Of beautiful beautiful glass.
I walk in the heavenly field,
With lilies and poppies bright,
I am dressed in a heavenly coat
Of polished white.
When I walk in the heavenly parkland
My feet on the pasture are bare,
Tall waves the grass, but no harmful
Creature is there.
At night I fly over the housetops,
And stand on the bright moony beams;
Gold are all heaven's rivers,
And silver her streams.
Stevie Smith, "The Heavenly City" from Stevie Smith Collected Poems. Copyright © 1983 by Stevie Smith. Reprinted by permission of New Directions Publishing Corporation.
Source: Stevie Smith Collected Poems (New Directions Publishing Corporation, 1983)
Nature
Social Commentaries
Poet Bio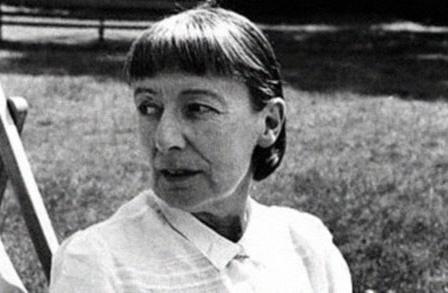 Although the nursery-rhyme-like cadences of her poems and the whimsical drawings with which she illustrated them suggest a child's innocence, Stevie Smith was much concerned with suffering and mortality. (Her macabre sense of humor can shock, as in her most famous poem, "Not Waving But Drowning.") Born Florence Margaret Smith in Hull, Yorkshire, she moved with her family to London when three, then lived in the same house the rest of her life. She published several collections of short prose and letters as well as nearly a dozen volumes of verse. Glenda Jackson portrays the eccentric poet in the 1978 movie Stevie.
More By This Poet
More Poems about Nature
What Women Are Made Of
We are all ventricle, spine, lung, larynx, and gut.
Clavicle and nape, what lies forked in an open palm;

we are follicle and temple. We are ankle, arch,
sole. Pore and rib, pelvis and root

and tongue. We are wishbone and gland and molar
and...
White Box
Of Tribulation, these are They,
Denoted by the White.
— Emily Dickinson


Pained, permanent
wakefulness

Exposed
in the split geode

a Santa's grotto
Jagged milk

quartz crusts
constitute

every surface —
a mouth

all teeth
self-sharpening

like sea urchins' —
"Uncomfortably beautiful"

toughened glass
spikes

in the doorways
of award-

winning offices
 — rough

sleepers from the womb
condemned

to make of anything succulent
rock

of porticoes
iron maidens
Browse poems about Nature
More Poems about Social Commentaries
Vagrants and Loiterers
You got that clean waistcoat,
the bright white of a well-tailored
shirt, you got those loose-as-sacks
slacks and some spit-polished shoes,
and you know, whether you are looking
like money, or about to take a stroll,
to tilt that hat like you own
the world; yeah, smoke...
Activities
Living
Social Commentaries
Back Up Quick They're Hippies
That was the year we drove
into the commune in Cornwall.
"Jesus Jim," mam said,
"back up quick they're hippies."

Through the car window,
tents, row after row, flaps open,
long-haired men and women
curled around each other like babies

and the babies themselves
wandered naked across the grass.

I...
Living
Relationships
Social Commentaries
Browse poems about Social Commentaries