By Rupert Brooke
If I should die, think only this of me:
      That there's some corner of a foreign field
That is for ever England. There shall be
      In that rich earth a richer dust concealed;
A dust whom England bore, shaped, made aware,
      Gave, once, her flowers to love, her ways to roam;
A body of England's, breathing English air,
      Washed by the rivers, blest by suns of home.
And think, this heart, all evil shed away,
      A pulse in the eternal mind, no less
            Gives somewhere back the thoughts by England given;
Her sights and sounds; dreams happy as her day;
      And laughter, learnt of friends; and gentleness,
            In hearts at peace, under an English heaven.
Poetry Out Loud Note: This poem has had two titles: "The Soldier" and "Nineteen-Fourteen: The Soldier". The student may give either title during the recitation.
Living
Mythology & Folklore
Social Commentaries
Poet Bio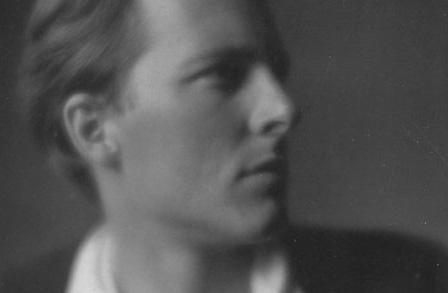 When Rupert Brooke died at the age of 27, he was immortalized as a charismatic poet whom W.B. Yeats called "the handsomest young man in England," and as a symbol of what would be known as the "Lost Generation." His patriotic poetry strengthened support for World War I, although he did not see much combat.
More Poems about Living
Browse poems about Living
More Poems about Mythology & Folklore
Browse poems about Mythology & Folklore
More Poems about Social Commentaries
Vagrants and Loiterers
You got that clean waistcoat,
the bright white of a well-tailored
shirt, you got those loose-as-sacks
slacks and some spit-polished shoes,
and you know, whether you are looking
like money, or about to take a stroll,
to tilt that hat like you own
the world; yeah, smoke...
Activities
Living
Social Commentaries
Back Up Quick They're Hippies
That was the year we drove
into the commune in Cornwall.
"Jesus Jim," mam said,
"back up quick they're hippies."

Through the car window,
tents, row after row, flaps open,
long-haired men and women
curled around each other like babies

and the babies themselves
wandered naked across the grass.

I...
Living
Relationships
Social Commentaries
Browse poems about Social Commentaries