By Thomas Moore
The time I've lost in wooing,
In watching and pursuing
The light, that lies
In woman's eyes,
Has been my heart's undoing.
Though Wisdom oft has sought me,
I scorn'd the lore she brought me,
My only books
Were woman's looks,
And folly's all they've taught me.
Her smile when Beauty granted,
I hung with gaze enchanted,
Like him the Sprite,
Whom maids by night
Oft meet in glen that's haunted.
Like him, too, Beauty won me,
But while her eyes were on me,
If once their ray
Was turn'd away,
Oh! winds could not outrun me.
And are those follies going?
And is my proud heart growing
Too cold or wise
For brilliant eyes
Again to set it glowing?
No, vain, alas! th' endeavour
From bonds so sweet to sever;
Poor Wisdom's chance
Against a glance
Is now as weak as ever.
Living
Love
Relationships
Poet Bio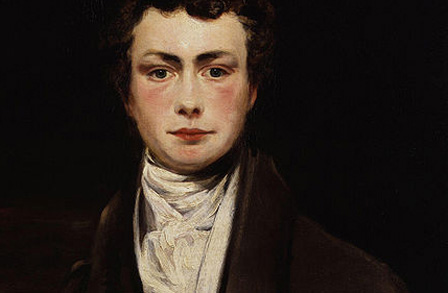 An Irish Catholic during the years of oppressive anti-Catholic measures enforced by the English, Thomas Moore is best remembered as a cultural patriot who used poetry and song to advance his country's cause. His most famous work is Irish Melodies, published over the years 1808 to 1834. Intending to stir patriotism and build the case for Irish independence, Moore composed lyrics meant to be sung to the tunes of old Irish folk songs. The songs were wildly successful and cemented Moore's reputation among the era's leading poets, including Lord Byron and Percy Bysshe Shelley, both of whom paid tribute to Moore in their own work.
See More By This Poet
More Poems about Living
Browse poems about Living
More Poems about Love
Browse poems about Love
More Poems about Relationships
Browse poems about Relationships
Get a random poem