By William E. Stafford
The well rising without sound,
the spring on a hillside,
the plowshare brimming through deep ground
everywhere in the field—
The sharp swallows in their swerve
flaring and hesitating
hunting for the final curve
coming closer and closer—
The swallow heart from wingbeat to wingbeat
counseling decision, decision:
thunderous examples. I place my feet
with care in such a world.
"The Well Rising" copyright 1960, 1998 the Estate of William Stafford. Reprinted from The Way It Is with the permission of Graywolf Press. www.graywolfpress.org
Source: The Darkness Round Us Is Deep (HarperPerennial, 1993)
Poet Bio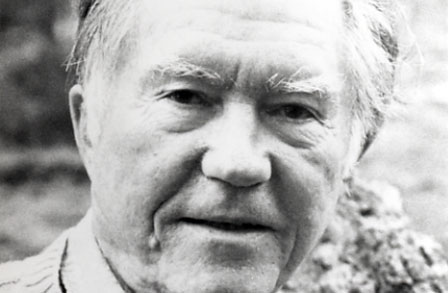 Born in Kansas, Stafford lived with other conscientious objectors in work camps in Arkansas and California during the 1940's. He taught at Lewis and Clark College, Manchester College, and San Jose State College (now University). He also served as U.S. Information Agency lecturer in Egypt, Iran, Pakistan, India, Nepal, and Bangladesh, and held Oregon's Poet Laureate position from 1975-93. Stafford was a prolific writer and authored numerous books of nonfiction and poetry as well as edited several collections of poetry and prose and contributed to translations and anthologies.
See More By This Poet
More By This Poet
More Poems about Nature
Poem
The earth said
remember me.
The earth said
don't let go,

said it one day
when I was
accidentally
listening, I

heard it, I felt it
like temperature,
all said in a
whisper—build to-

morrow, make right be-
fall, you are not
free, other scenes
are not taking

place, time is not filled,
time is not late,...
Browse poems about Nature
Get a random poem