By Rachel Sherwood
As this suburban summer wanders toward dark
cats watch from their driveways — they are bored
and await miracles. The houses show, through windows
flashes of knife and fork, the blue light
of televisions, inconsequential fights
between wife and husband in the guest bathroom
voices sound like echoes in these streets
the chattering of awful boys as they plot
behind the juniper and ivy, miniature guerillas
that mimic the ancient news of the world
and shout threats, piped high across mock fences
to girls riding by in the last pieces of light
the color of the sky makes brilliant reflection
in the water and oil along the curb
deepened aqua and the sharp pure rose of the clouds
there is no sun or moon, few stars wheel
above the domestic scene — this half-lit world
still, quiet calming the dogs worried by distant alarms
there — a woman in a window washes a glass
a man across the street laughs through an open door
utterly alien, alone. There is a time, seconds between
the last light and the dark stretch ahead, when color
is lost — the girl on her swing becomes a swift
apparition, black and white flowing suddenly into night.
Rachel Sherwood, "The World in the Evening" from Mysteries of Afternoon and Evening. Copyright © 1981 by David Trinidad. Reprinted by permission of David Trinidad.
Source: Mysteries of Afternoon and Evening (Sherwood Press/Yarmouth Press, 1981)
Poet Bio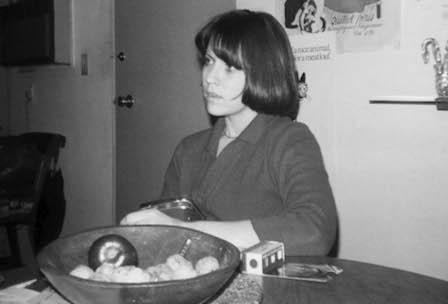 Rachel Sherwood was born in Washington, DC, and grew up in Southern California. She attended St. David's University College in Wales and California State University Northridge. She died in an automobile accident in 1979, at the age of 25. At the time of her death, Sherwood was enrolled as a graduate student at Cal State Northridge and was employed there as a teacher of English composition. To preserve Sherwood's memory, her friends established the Rachel Sherwood Poetry Prize at Northridge; the award is given annually to a student poet. 
More Poems about Nature
What Women Are Made Of
We are all ventricle, spine, lung, larynx, and gut.
Clavicle and nape, what lies forked in an open palm;

we are follicle and temple. We are ankle, arch,
sole. Pore and rib, pelvis and root

and tongue. We are wishbone and gland and molar
and...
White Box
Of Tribulation, these are They,
Denoted by the White.
— Emily Dickinson


Pained, permanent
wakefulness

Exposed
in the split geode

a Santa's grotto
Jagged milk

quartz crusts
constitute

every surface —
a mouth

all teeth
self-sharpening

like sea urchins' —
"Uncomfortably beautiful"

toughened glass
spikes

in the doorways
of award-

winning offices
 — rough

sleepers from the womb
condemned

to make of anything succulent
rock

of porticoes
iron maidens
Browse poems about Nature