By Richard Lovelace
When Love with unconfinèd wings
Hovers within my Gates,
And my divine Althea brings
To whisper at the Grates;
When I lie tangled in her hair,
And fettered to her eye,
The Gods that wanton in the Air,
Know no such Liberty.
When flowing Cups run swiftly round
With no allaying Thames,
Our careless heads with Roses bound,
Our hearts with Loyal Flames;
When thirsty grief in Wine we steep,
When Healths and draughts go free,
Fishes that tipple in the Deep
Know no such Liberty.
When (like committed linnets) I
With shriller throat shall sing
The sweetness, Mercy, Majesty,
And glories of my King;
When I shall voice aloud how good
He is, how Great should be,
Enlargèd Winds, that curl the Flood,
Know no such Liberty.
Stone Walls do not a Prison make,
Nor Iron bars a Cage;
Minds innocent and quiet take
That for an Hermitage.
If I have freedom in my Love,
And in my soul am free,
Angels alone that soar above,
Enjoy such Liberty.
Love
Relationships
Social Commentaries
Poet Bio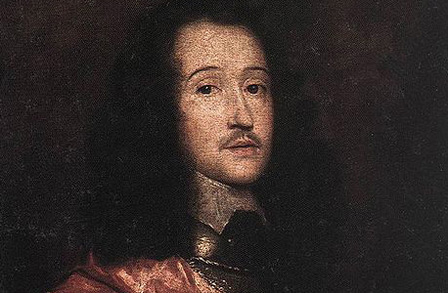 Like the other Cavalier poets of 17th-century England, Richard Lovelace lived a legendary life as a soldier, lover, and courtier. Persecuted for his unflagging support of King Charles I, he died in dire poverty — but not before writing two of the age's most melodic and moving lyrics: "To Althea, from Prison" and "To Lucasta, Going to the Wars."
More By This Poet
More Poems about Love
Browse poems about Love
More Poems about Relationships
Browse poems about Relationships
More Poems about Social Commentaries
Vagrants and Loiterers
You got that clean waistcoat,
the bright white of a well-tailored
shirt, you got those loose-as-sacks
slacks and some spit-polished shoes,
and you know, whether you are looking
like money, or about to take a stroll,
to tilt that hat like you own
the world; yeah, smoke...
Activities
Living
Social Commentaries
Back Up Quick They're Hippies
That was the year we drove
into the commune in Cornwall.
"Jesus Jim," mam said,
"back up quick they're hippies."

Through the car window,
tents, row after row, flaps open,
long-haired men and women
curled around each other like babies

and the babies themselves
wandered naked across the grass.

I...
Living
Relationships
Social Commentaries
Browse poems about Social Commentaries