By Ruby Robinson
There is an ash tree behind this house. You
can see it from our bedroom window.
If you stare at it for long enough, you'll see
it drop a leaf. Stare at it now, you said,
and notice the moment a leaf strips away
from its branch, giving a twirl. Consider this.
The ash tree unclothes itself Octoberly.
From beside our bed, fingering the curtain,
observe the dark candles at the top of
that tree, naked and alert, tending to the breeze.
A sheet of ice between the rooftops
and this noiseless sky has turned the air
inside out. Black veins of branches
shake against the blue screen on which they
hang. Small mammals are hibernating
in pellets of warm air under ground. But,
in spite of the cold, this ash tree does not shy
from shrugging off its coat, sloping its nude
shoulders to the night. So, you said, undo,
unbutton, unclasp, slowly remove. Let down your
hair, breathe out. Stand stark in this room until
we remember how not to feel the chill.
Stand at the window, lift your arms right up
like a tree. Yes — like that. Watch leaves drop.
Source: Poetry (October 2014)
Poet Bio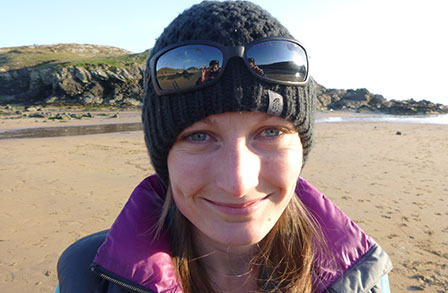 Ruby Robinson was born in Manchester, England. She studied English literature at the University of East Anglia and is a graduate of the Sheffield Hallam University Writing MA.
More Poems about Living
Browse poems about Living
More Poems about Nature
What Women Are Made Of
We are all ventricle, spine, lung, larynx, and gut.
Clavicle and nape, what lies forked in an open palm;

we are follicle and temple. We are ankle, arch,
sole. Pore and rib, pelvis and root

and tongue. We are wishbone and gland and molar
and...
White Box
Of Tribulation, these are They,
Denoted by the White.
— Emily Dickinson


Pained, permanent
wakefulness

Exposed
in the split geode

a Santa's grotto
Jagged milk

quartz crusts
constitute

every surface —
a mouth

all teeth
self-sharpening

like sea urchins' —
"Uncomfortably beautiful"

toughened glass
spikes

in the doorways
of award-

winning offices
 — rough

sleepers from the womb
condemned

to make of anything succulent
rock

of porticoes
iron maidens
Browse poems about Nature