By Shara McCallum
You will leave your home:
nothing will hold you.
You will wear dresses of gold; skins
of silver, copper, and bronze.
The sky above you will shift in meaning
each time you think you understand.
You will spend a lifetime chipping away layers
of flesh. The shadow of your scales
will always remain. You will be marked
by sulphur and salt.
You will bathe endlessly in clear streams and fail
to rid yourself of that scent.
Your feet will never be your own.
Stone will be your path.
Storms will follow in your wake,
destroying all those who take you in.
You will desert your children
kill your lovers and devour their flesh.
You will love no one
but the wind and ache of your bones.
Neither will love you in return.
With age, your hair will grow matted and dull,
your skin will gape and hang in long folds,
your eyes will cease to shine.
But nothing will be enough.
The sea will never take you back.
Shara McCallum, "What the Oracle Said" from The Water Between Us. Copyright © 1999 by Shara McCallum. All rights are controlled by the University of Pittsburgh Press, Pittsburgh, PA 15260. Used by permission of the University of Pittsburgh Press.
Source: The Water Between Us (University of Pittsburgh Press, 1999)
Living
Nature
Social Commentaries
Poet Bio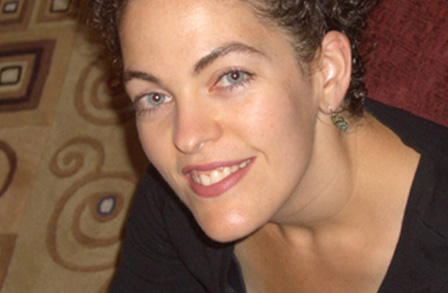 Shara McCallum was born in Jamaica to an African Jamaican father and a Venezuelan mother and moved to the United States with her family when she was nine. A professor of English and the director of the Stadler Center for Poetry at Bucknell University, McCallum is the recipient of a fellowship from the National Endowment for the Arts. Her work considers the intersections of race, gender, history, and personal identity; in an interview, she noted that "poetry helps me explore the ways we understand complex notions of identity, whether that's personal, familial, or cultural."
More By This Poet
More Poems about Living
Browse poems about Living
More Poems about Nature
What Women Are Made Of
We are all ventricle, spine, lung, larynx, and gut.
Clavicle and nape, what lies forked in an open palm;

we are follicle and temple. We are ankle, arch,
sole. Pore and rib, pelvis and root

and tongue. We are wishbone and gland and molar
and...
White Box
Of Tribulation, these are They,
Denoted by the White.
— Emily Dickinson


Pained, permanent
wakefulness

Exposed
in the split geode

a Santa's grotto
Jagged milk

quartz crusts
constitute

every surface —
a mouth

all teeth
self-sharpening

like sea urchins' —
"Uncomfortably beautiful"

toughened glass
spikes

in the doorways
of award-

winning offices
 — rough

sleepers from the womb
condemned

to make of anything succulent
rock

of porticoes
iron maidens
Browse poems about Nature
More Poems about Social Commentaries
Vagrants and Loiterers
You got that clean waistcoat,
the bright white of a well-tailored
shirt, you got those loose-as-sacks
slacks and some spit-polished shoes,
and you know, whether you are looking
like money, or about to take a stroll,
to tilt that hat like you own
the world; yeah, smoke...
Activities
Living
Social Commentaries
Back Up Quick They're Hippies
That was the year we drove
into the commune in Cornwall.
"Jesus Jim," mam said,
"back up quick they're hippies."

Through the car window,
tents, row after row, flaps open,
long-haired men and women
curled around each other like babies

and the babies themselves
wandered naked across the grass.

I...
Living
Relationships
Social Commentaries
Browse poems about Social Commentaries