By Mary Morris
The war was over.
We sutured the wounded,
buried the dead, sat at the bar
with the enemy, near the blue
throat of the sea. A sushi chef
slivered salmon into orchids,
etched clouds from oysters,
as they rose snowing pearls.
From shrimp and seaweed
he shaped hummingbirds,
which hovered above
our heads.
With the world's smallest blade
he carved from yellowfin,
miniature flanks of horses.
They cantered around our hands.
Source: Poetry (January 2016)
Activities
Nature
Social Commentaries
Poet Bio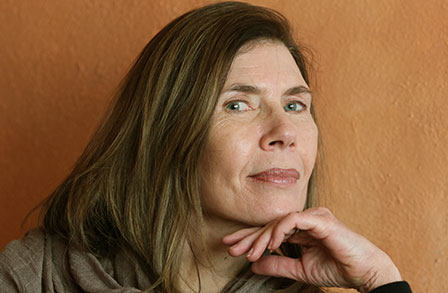 Mary Morris lives in Santa Fe, New Mexico. She received the Rita Dove Award and the New Mexico Discovery Award.
More Poems about Activities
Browse poems about Activities
More Poems about Nature
What Women Are Made Of
We are all ventricle, spine, lung, larynx, and gut.
Clavicle and nape, what lies forked in an open palm;

we are follicle and temple. We are ankle, arch,
sole. Pore and rib, pelvis and root

and tongue. We are wishbone and gland and molar
and...
White Box
Of Tribulation, these are They,
Denoted by the White.
— Emily Dickinson


Pained, permanent
wakefulness

Exposed
in the split geode

a Santa's grotto
Jagged milk

quartz crusts
constitute

every surface —
a mouth

all teeth
self-sharpening

like sea urchins' —
"Uncomfortably beautiful"

toughened glass
spikes

in the doorways
of award-

winning offices
 — rough

sleepers from the womb
condemned

to make of anything succulent
rock

of porticoes
iron maidens
Browse poems about Nature
More Poems about Social Commentaries
Vagrants and Loiterers
You got that clean waistcoat,
the bright white of a well-tailored
shirt, you got those loose-as-sacks
slacks and some spit-polished shoes,
and you know, whether you are looking
like money, or about to take a stroll,
to tilt that hat like you own
the world; yeah, smoke...
Activities
Living
Social Commentaries
Back Up Quick They're Hippies
That was the year we drove
into the commune in Cornwall.
"Jesus Jim," mam said,
"back up quick they're hippies."

Through the car window,
tents, row after row, flaps open,
long-haired men and women
curled around each other like babies

and the babies themselves
wandered naked across the grass.

I...
Living
Relationships
Social Commentaries
Browse poems about Social Commentaries