By Archibald MacLeish
And here face down beneath the sun
And here upon earth's noonward height
To feel the always coming on
The always rising of the night:
To feel creep up the curving east
The earthy chill of dusk and slow
Upon those under lands the vast
And ever climbing shadow grow
And strange at Ecbatan the trees
Take leaf by leaf the evening strange
The flooding dark about their knees
The mountains over Persia change
And now at Kermanshah the gate
Dark empty and the withered grass
And through the twilight now the late
Few travelers in the westward pass
And Baghdad darken and the bridge
Across the silent river gone
And through Arabia the edge
Of evening widen and steal on
And deepen on Palmyra's street
The wheel rut in the ruined stone
And Lebanon fade out and Crete
High through the clouds and overblown
And over Sicily the air
Still flashing with the landward gulls
And loom and slowly disappear
The sails above the shadowy hulls
And Spain go under and the shore
Of Africa the gilded sand
And evening vanish and no more
The low pale light across that land
Nor now the long light on the sea:
And here face downward in the sun
To feel how swift how secretly
The shadow of the night comes on …
Archibald MacLeish, "You, Andrew Marvell" from Collected Poems 1917-1982. Copyright © 1985 by The Estate of Archibald MacLeish. Reprinted with the permission of Houghton Mifflin Company. All rights reserved.
Source: Collected Poems 1917-1952 (Houghton Mifflin Harcourt, 1952)
Activities
Arts & Sciences
Poet Bio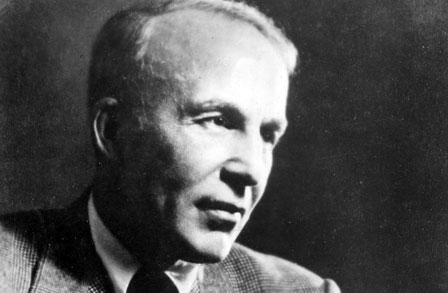 Archibald MacLeish was born in Glencoe, Illinois, and attended Yale University where he was a member of the Skull and Bones secret society. After college, he enrolled at Harvard Law School, but he put his studies on hold to become first an ambulance driver and later a captain of artillery during World War I. He graduated from Harvard in 1919. MacLeish's long and prestigious career includes several years practicing law, writing and editing for Fortune magazine, and a five-year stint as Librarian of Congress. He received numerous fellowships, grants, honorary degrees, and awards. He won three Pulitzer Prizes, including one for his verse drama, J.B.
See More By This Poet
More By This Poet
More Poems about Activities
Browse poems about Activities
More Poems about Arts & Sciences
Listening in Deep Space
We've always been out looking for answers,
telling stories about ourselves,
searching for connection, choosing
to send out Stravinsky and whale song,
which, in translation, might very well be
our undoing instead of a welcome.

We launch satellites, probes, telescopes
unfolding like origami, navigating
geomagnetic storms, major disruptions.
Rovers...
Browse poems about Arts & Sciences
Get a random poem