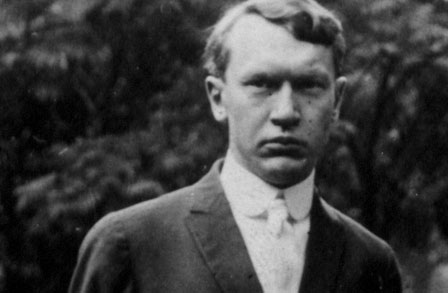 Nearly forgotten today, Vachel Lindsay briefly enjoyed international acclaim. In 1920 the English Observer declared him "easily the most important living American poet." He owed this fame to one of the most spellbinding recitation styles ever witnessed, and to poems like "General William Booth Enters into Heaven" and "The Congo," which seem custom made for dramatic delivery. Lindsay was also one of the first movie critics.
More By This Poet
The Traveller-Heart
I would be one with the dark, dark earth:—
Follow the plough with a yokel tread.
I would be part of the Indian corn,
Walking the rows with the plumes o'erhead. 

I would be one with the lavish earth, 
Eating the bee-stung apples red: 
Walking where...
Lincoln
Would I might rouse the Lincoln in you all,
That which is gendered in the wilderness
From lonely prairies and God's tenderness.
Imperial soul, star of a weedy stream,
Born where the ghosts of buffaloes still dream,
Whose spirit hoof-beats...
Mythology & Folklore
Social Commentaries
Abraham Lincoln Walks at Midnight
It is portentous, and a thing of state
That here at midnight, in our little town
A mourning figure walks, and will not rest,
Near the old court-house pacing up and down.

Or by his homestead, or in shadowed yards
He lingers where his children...
Mythology & Folklore
Social Commentaries
Browse more poets