By Vachel Lindsay
(To a Man who maintained that the Mausoleum is the Stateliest Possible Manner of Interment)
I would be one with the dark, dark earth:—
Follow the plough with a yokel tread.
I would be part of the Indian corn,
Walking the rows with the plumes o'erhead.
I would be one with the lavish earth,
Eating the bee-stung apples red:
Walking where lambs walk on the hills;
By oak-grove paths to the pools be led.
I would be one with the dark-bright night
When sparkling skies and the lightning wed—
Walking on with the vicious wind
By roads whence even the dogs have fled.
I would be one with the sacred earth
On to the end, till I sleep with the dead.
Terror shall put no spears through me.
Peace shall jewel my shroud instead.
I shall be one with all pit-black things
Finding their lowering threat unsaid:
Stars for my pillow there in the gloom,—
Oak-roots arching about my head!
Stars, like daisies, shall rise through the earth,
Acorns fall round my breast that bled.
Children shall weave there a flowery chain,
Squirrels on acorn-hearts be fed:—
Fruit of the traveller-heart of me,
Fruit of my harvest-songs long sped:
Sweet with the life of my sunburned days
When the sheaves were ripe, and the apples red.
Source: Congo and other poems (1915)
Poet Bio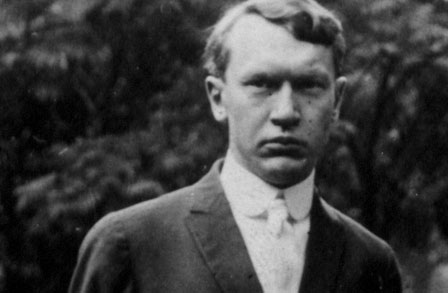 Nearly forgotten today, Vachel Lindsay briefly enjoyed international acclaim. In 1920 the English Observer declared him "easily the most important living American poet." He owed this fame to one of the most spellbinding recitation styles ever witnessed, and to poems like "General William Booth Enters into Heaven" and "The Congo," which seem custom made for dramatic delivery. Lindsay was also one of the first movie critics.
See More By This Poet
More By This Poet
More Poems about Activities
Browse poems about Activities
More Poems about Nature
Listening in Deep Space
We've always been out looking for answers,
telling stories about ourselves,
searching for connection, choosing
to send out Stravinsky and whale song,
which, in translation, might very well be
our undoing instead of a welcome.

We launch satellites, probes, telescopes
unfolding like origami, navigating
geomagnetic storms, major disruptions.
Rovers...
Browse poems about Nature
Get a random poem