By Yusef Komunyakaa
We tied branches to our helmets.
We painted our faces & rifles
with mud from a riverbank,
blades of grass hung from the pockets
of our tiger suits. We wove
ourselves into the terrain,
content to be a hummingbird's target.
We hugged bamboo & leaned
against a breeze off the river,
slow-dragging with ghosts
from Saigon to Bangkok,
with women left in doorways
reaching in from America.
We aimed at dark-hearted songbirds.
In our way station of shadows
rock apes tried to blow our cover,
throwing stones at the sunset. Chameleons
crawled our spines, changing from day
to night: green to gold,
gold to black. But we waited
till the moon touched metal,
till something almost broke
inside us. VC struggled
with the hillside, like black silk
wrestling iron through grass.
We weren't there. The river ran
through our bones. Small animals took refuge
against our bodies; we held our breath,
ready to spring the L-shaped
ambush, as a world revolved
under each man's eyelid.
Yusef Komunyakaa, "Camouflaging the Chimera" from Pleasure Dome: New and Collected Poems. Copyright © 2001 by Yusef Komunyakaa. Reprinted with the permission of Wesleyan University Press.
Source: Pleasure Dome: New and Collected Poems (Wesleyan University Press, 2001)
Nature
Social Commentaries
Poet Bio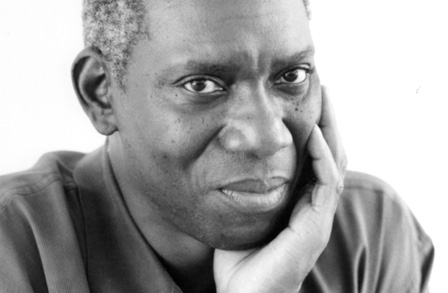 Yusef Komunyakaa's poems are rooted in his experiences as an African American growing up in rural Louisiana and his service in the Vietnam War. Influenced by the jazz music he loves as well as by people's everyday speech, his poetry has won a number of awards, including the Pulitzer Prize in 1994.
More By This Poet
More Poems about Nature
What Women Are Made Of
We are all ventricle, spine, lung, larynx, and gut.
Clavicle and nape, what lies forked in an open palm;

we are follicle and temple. We are ankle, arch,
sole. Pore and rib, pelvis and root

and tongue. We are wishbone and gland and molar
and...
White Box
Of Tribulation, these are They,
Denoted by the White.
— Emily Dickinson


Pained, permanent
wakefulness

Exposed
in the split geode

a Santa's grotto
Jagged milk

quartz crusts
constitute

every surface —
a mouth

all teeth
self-sharpening

like sea urchins' —
"Uncomfortably beautiful"

toughened glass
spikes

in the doorways
of award-

winning offices
 — rough

sleepers from the womb
condemned

to make of anything succulent
rock

of porticoes
iron maidens
Browse poems about Nature
More Poems about Social Commentaries
Vagrants and Loiterers
You got that clean waistcoat,
the bright white of a well-tailored
shirt, you got those loose-as-sacks
slacks and some spit-polished shoes,
and you know, whether you are looking
like money, or about to take a stroll,
to tilt that hat like you own
the world; yeah, smoke...
Activities
Living
Social Commentaries
Back Up Quick They're Hippies
That was the year we drove
into the commune in Cornwall.
"Jesus Jim," mam said,
"back up quick they're hippies."

Through the car window,
tents, row after row, flaps open,
long-haired men and women
curled around each other like babies

and the babies themselves
wandered naked across the grass.

I...
Living
Relationships
Social Commentaries
Browse poems about Social Commentaries