By Elinor Wylie
Man, the egregious egoist,
(In mystery the twig is bent,)
Imagines, by some mental twist,
That he alone is sentient
Of the intolerable load
Which on all living creatures lies,
Nor stoops to pity in the toad
The speechless sorrow of its eyes.
He asks no questions of the snake,
Nor plumbs the phosphorescent gloom
Where lidless fishes, broad awake,
Swim staring at a night-mare doom.
Elinor Wylie, "Cold Blooded Creatures" from Selected Works of Elinor Wylie, edited by Evelyn Helmick Hively (Kent, Ohio: The Kent State University Press, 2005). Reprinted with the permission of The Kent State University Press.
Source: Selected Works of Elinor Wylie (Kent State University Press, 2005)
Poet Bio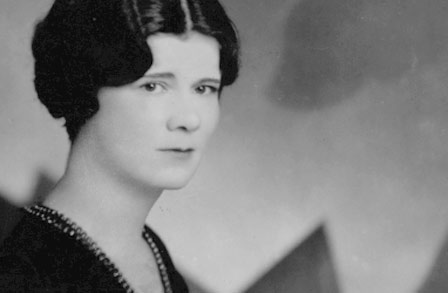 Elinor Wylie was born in Somerville, New Jersey to a prominent family, including a grandfather who was the governor of Pennsylvania and a father who was the Solicitor General. Through her early efforts she achieved some status in literary circles, and in 1921 published a volume of poetry that brought her fame. She published novels and poetry prodigiously until her death seven years later. Her poems find their influence in 16th and 17th century verse, combining a moderate tone with formal verse structures.
More By This Poet
More Poems about Living
Browse poems about Living
More Poems about Nature
What Women Are Made Of
We are all ventricle, spine, lung, larynx, and gut.
Clavicle and nape, what lies forked in an open palm;

we are follicle and temple. We are ankle, arch,
sole. Pore and rib, pelvis and root

and tongue. We are wishbone and gland and molar
and...
White Box
Of Tribulation, these are They,
Denoted by the White.
— Emily Dickinson


Pained, permanent
wakefulness

Exposed
in the split geode

a Santa's grotto
Jagged milk

quartz crusts
constitute

every surface —
a mouth

all teeth
self-sharpening

like sea urchins' —
"Uncomfortably beautiful"

toughened glass
spikes

in the doorways
of award-

winning offices
 — rough

sleepers from the womb
condemned

to make of anything succulent
rock

of porticoes
iron maidens
Browse poems about Nature