By Alfred & Lord Tennyson
Sunset and evening star,
      And one clear call for me!
And may there be no moaning of the bar,
      When I put out to sea,
   But such a tide as moving seems asleep,
      Too full for sound and foam,
When that which drew from out the boundless deep
      Turns again home.
   Twilight and evening bell,
      And after that the dark!
And may there be no sadness of farewell,
      When I embark;
   For tho' from out our bourne of Time and Place
      The flood may bear me far,
I hope to see my Pilot face to face
      When I have crost the bar.
Poet Bio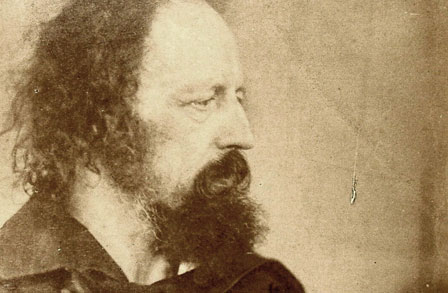 Alfred, Lord Tennyson was born one of 12 children to a wealthy family in Lincolnshire, England. With poems such as In Memoriam, an elegy for a friend, and Idylls of the King, a long narrative, Tennyson became the most popular English poet of his time. Queen Victoria made him Poet Laureate in 1850. He is buried in Westminster Abbey.
More By This Poet
Break, Break, Break
Break, break, break,
         On thy cold gray stones, O Sea!
And I would that my tongue could utter
         The thoughts that arise in me.

O, well for the fisherman's boy,
         That he shouts with his sister at play!
O, well for the sailor lad,
         That he sings...
The Charge of the Light Brigade
I
Half a league, half a league,
Half a league onward,
All in the valley of Death
   Rode the six hundred.
"Forward, the Light Brigade!
Charge for the guns!" he said.
Into the valley of Death
   Rode the six hundred.

II
"Forward, the Light Brigade!"
Was there a man dismayed?
Not though...
Mythology & Folklore
Social Commentaries
More Poems about Living
Browse poems about Living
More Poems about Nature
What Women Are Made Of
We are all ventricle, spine, lung, larynx, and gut.
Clavicle and nape, what lies forked in an open palm;

we are follicle and temple. We are ankle, arch,
sole. Pore and rib, pelvis and root

and tongue. We are wishbone and gland and molar
and...
White Box
Of Tribulation, these are They,
Denoted by the White.
— Emily Dickinson


Pained, permanent
wakefulness

Exposed
in the split geode

a Santa's grotto
Jagged milk

quartz crusts
constitute

every surface —
a mouth

all teeth
self-sharpening

like sea urchins' —
"Uncomfortably beautiful"

toughened glass
spikes

in the doorways
of award-

winning offices
 — rough

sleepers from the womb
condemned

to make of anything succulent
rock

of porticoes
iron maidens
Browse poems about Nature