By Russell Edson
Let us consider the farmer who makes his straw hat his
sweetheart; or the old woman who makes a floor lamp her son;
or the young woman who has set herself the task of scraping
her shadow off a wall….
Let us consider the old woman who wore smoked cows'
tongues for shoes and walked a meadow gathering cow chips
in her apron; or a mirror grown dark with age that was given
to a blind man who spent his nights looking into it, which
saddened his mother, that her son should be so lost in
vanity….
Let us consider the man who fried roses for his dinner,
whose kitchen smelled like a burning rose garden; or the man
who disguised himself as a moth and ate his overcoat, and for
dessert served himself a chilled fedora….
Russell Edson, "Let Us Consider" from The Rooster's Wife. Copyright © 2005 by Russell Edson. Reprinted by permission of BOA Editions, Ltd.
Source: The Rooster's Wife (BOA Editions Ltd., 2005)
Arts & Sciences
Mythology & Folklore
Relationships
Poet Bio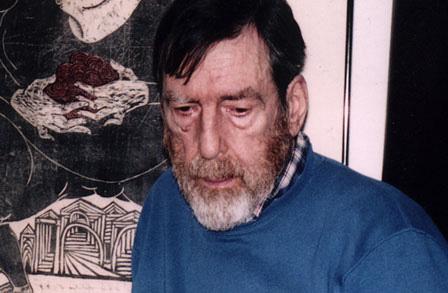 Edson studied art early in life and attended the Art Students League when he was 16. In the 1960s he began publishing poetry; since then, he has received fellowships from the Guggenheim Foundation and the National Endowment for the Arts. Russell Edson's prose poems are often populated with strange and intriguing figures: a woman fights a tree, a mother serves ape. The poems are surreal and fablelike, sometimes resembling brief plays. He lived for many years in Stamford, Connecticut.
See More By This Poet
More Poems about Arts & Sciences
Listening in Deep Space
We've always been out looking for answers,
telling stories about ourselves,
searching for connection, choosing
to send out Stravinsky and whale song,
which, in translation, might very well be
our undoing instead of a welcome.

We launch satellites, probes, telescopes
unfolding like origami, navigating
geomagnetic storms, major disruptions.
Rovers...
Browse poems about Arts & Sciences
More Poems about Mythology & Folklore
Browse poems about Mythology & Folklore
More Poems about Relationships
Browse poems about Relationships
Get a random poem