By Galway Kinnell
The bud
stands for all things,
even for those things that don't flower,
for everything flowers, from within, of self-blessing;
though sometimes it is necessary
to reteach a thing its loveliness,
to put a hand on its brow
of the flower
and retell it in words and in touch
it is lovely
until it flowers again from within, of self-blessing;
as Saint Francis
put his hand on the creased forehead
of the sow, and told her in words and in touch
blessings of earth on the sow, and the sow
began remembering all down her thick length,
from the earthen snout all the way
through the fodder and slops to the spiritual curl of the tail,
from the hard spininess spiked out from the spine
down through the great broken heart
to the sheer blue milken dreaminess spurting and shuddering
from the fourteen teats into the fourteen mouths sucking and blowing beneath them:
the long, perfect loveliness of sow.
Galway Kinnell, "Saint Francis and the Sow" from Three Books. Copyright © 2002 by Galway Kinnell. Reprinted with the permission of Houghton Mifflin Company. All rights reserved, www.houghtonmifflinbooks.com.
Source: Three Books (2002)
Nature
Relationships
Religion
Poet Bio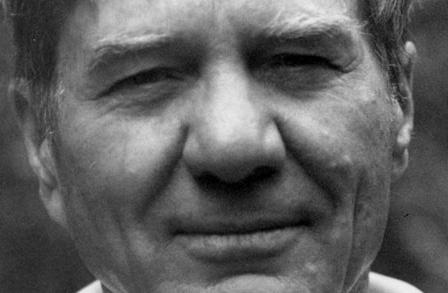 Galway Kinnell was born in Providence, Rhode Island. After two years of service in the U.S. Navy, he completed his undergraduate studies at Princeton and earned a graduate degree at the University of Rochester. He published many books over his long career. His book, Selected Poems (1980), received both the Pulitzer Prize and the National Book Award. Kinnell served as a Chancellor of the Academy of American Poets. Often focusing on the claims of nature and society on the individual, his poems explore psychological states in precise and sonorous free verse.
See More By This Poet
More Poems about Nature
Listening in Deep Space
We've always been out looking for answers,
telling stories about ourselves,
searching for connection, choosing
to send out Stravinsky and whale song,
which, in translation, might very well be
our undoing instead of a welcome.

We launch satellites, probes, telescopes
unfolding like origami, navigating
geomagnetic storms, major disruptions.
Rovers...
Browse poems about Nature
More Poems about Relationships
Browse poems about Relationships
More Poems about Religion
Browse poems about Religion
Get a random poem