By James Whitcomb Riley
O the days gone by! O the days gone by!
The apples in the orchard, and the pathway through the rye;
The chirrup of the robin, and the whistle of the quail
As he piped across the meadows sweet as any nightingale;
When the bloom was on the clover, and the blue was in the sky,
And my happy heart brimmed over in the days gone by.
In the days gone by, when my naked feet were tripped
By the honey-suckle's tangles where the water-lilies dipped,
And the ripples of the river lipped the moss along the brink
Where the placid-eyed and lazy-footed cattle came to drink,
And the tilting snipe stood fearless of the truant's wayward cry
And the splashing of the swimmer, in the days gone by.
O the days gone by! O the days gone by!
The music of the laughing lip, the luster of the eye;
The childish faith in fairies, and Aladdin's magic ring—
The simple, soul-reposing, glad belief in everything,—
When life was like a story, holding neither sob nor sigh,
In the golden olden glory of the days gone by.
Source: American Poetry: The Nineteenth Century (The Library of America, 1993)
Poet Bio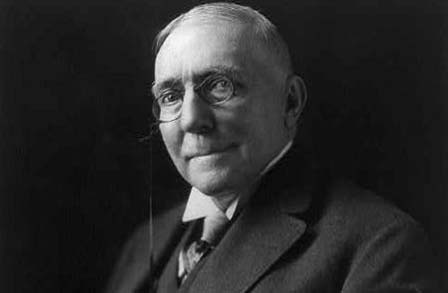 Known as "The Hoosier Poet" because of his birth in Indiana and poems celebrating the state, and as "The Children's Poet" due to his appeal for young readers, James Whitcomb Riley was one of his day's best-selling writers. Full of sentiment and traditional in form, his work features rustic subjects who speak in a homely, countrified dialect. When Riley died, Woodrow Wilson called him "a man who imparted joyful pleasure and a thoughtful view of many things that other men would have missed," and some 35,000 people filed past his casket in the Indiana State Capitol.
See More By This Poet
More Poems about Arts & Sciences
Listening in Deep Space
We've always been out looking for answers,
telling stories about ourselves,
searching for connection, choosing
to send out Stravinsky and whale song,
which, in translation, might very well be
our undoing instead of a welcome.

We launch satellites, probes, telescopes
unfolding like origami, navigating
geomagnetic storms, major disruptions.
Rovers...
Browse poems about Arts & Sciences
More Poems about Living
Browse poems about Living
Get a random poem