By Alberto Ríos
We plant seeds in the ground
And dreams in the sky,

Hoping that, someday, the roots of one
Will meet the upstretched limbs of the other.

It has not happened yet.
We share the sky, all of us, the whole world:

Together, we are a tribe of eyes that look upward,
Even as we stand on uncertain ground.

The earth beneath us moves, quiet and wild,
Its boundaries shifting, its muscles wavering.

The dream of sky is indifferent to all this,
Impervious to borders, fences, reservations.

The sky is our common home, the place we all live.
There we are in the world together.

The dream of sky requires no passport.
Blue will not be fenced. Blue will not be a crime.

Look up. Stay awhile. Let your breathing slow.
Know that you always have a home here.
Poem copyright ©2014 by Alberto Rios, "We Are of a Tribe," from Poetry of Presence: An Anthology of Mindfulness Poems, (Grayson Books, 2017). Poem reprinted by permission of Alberto Rios and the publisher.
Poet Bio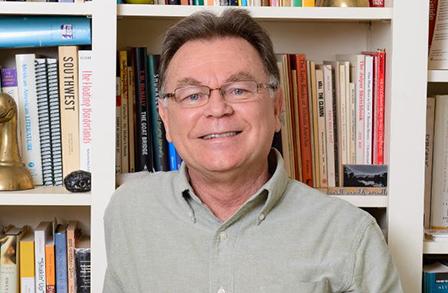 Born of a Mexican father and a British mother in the border city of Nogales, Arizona, Alberto Ríos has lived his life between cultures. He extends the metaphor of in-betweeness to language, claiming that he speaks three languages: Spanish, English, and a combination of the two. This linguistic richness gives Ríos's verse a touch of magical realism, as in his collection Whispering to Fool the Wind.
See More By This Poet
More By This Poet
Border Boy
I grew up on the border and though I left
I have brought it with me wherever I've gone.

Its line guides me, this long, winding thread of memory.
The border wasn't as big as they say—

It fit neatly behind my eyes and...
Living
Social Commentaries
Rabbits and Fire
Everything's been said
But one last thing about the desert,
And it's awful: During brush fires in the Sonoran desert,
Brush fires that happen before the monsoon and in the great,
Deep, wide, and smothering heat of the hottest months,
The longest months,
The hypnotic, immeasurable...
More Poems about Living
Browse poems about Living
More Poems about Nature
Browse poems about Nature
Get a random poem